Apple recently crossed $1 trillion in market capitalization making it the only company in the world to do so. That's a humungous leap for any company. To bring things into perspective, Indian economy ranks 7th in the world ranking with a total GDP of $2.848 trillion. How can a company started in a garage, reach the epitome of innovation and world technology domination?
If you read Walter Murch's biography of Steve Jobs, the founder of apple. You'd know these answers. But if you haven't read the book. There is so much to learn about the Apple's way of doing things. For this month of August 2018, in our technology section. I will be studying Apple closely and sharing with you the key facts and figures that made Apple what it is today.
Marketing can take you so much further but it's the innovation in your products that take you to the stop. Innovation can have different meanings and understanding for different people. But for Apple, it means to lead the way. Usually doing things that the small companies won't even dare to think about. Remember, you still can't find the headphone jack.
Here are times when Apple has surprised everyone with a Product release.
Apple Lisa 1983
Apple Lisa, is a desktop computer developed by Apple, released on January 19, 1983. It was one of the first personal computers to offer a graphical user interface (GUI) in a machine designed for individual business users. In this user Interface, Apple also introduced the mice. A pointing device that can open and select folders. But Apple never made the mice. It was invented by Douglas Engelbart, and Steve Jobs came across a more developed mouse in a photocopying facility. He soon bought it. Brought the cost of single mouse down from $400 to $25. Made it better and inculcated it into the desktop. Not really inventing something, but Steve Job had an eye to look at what the mouse was capable of doing. The owners of the photocopying facility underestimated the mouse and sold its design to Apple for a lucrative $40,000.
iMac 1998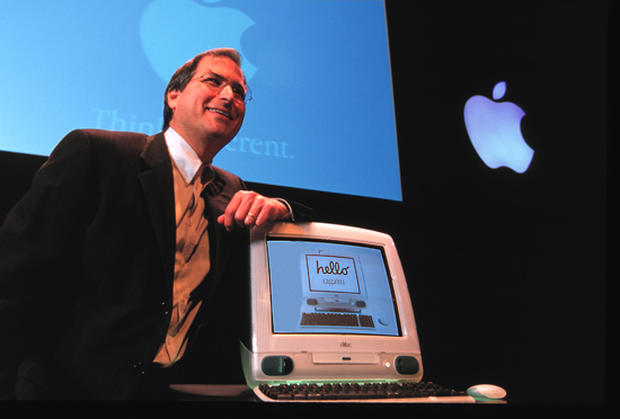 After being ousted from the company, Steve Job returned with a product that defined apple for the upcoming years. The iMac was dramatically different from any previous mainstream computers. It was made of translucent "Bondi Blue"- coloured plastic and was egg-shaped around a 15-inch (38.1 cm) CRT display. The case included a handle, and the peripheral connectors were hidden behind a door on the right-hand side of the machine. Dual headphone jacks in the front complemented the built-in stereo speakers. Jonathan Ive, currently Chief Design Officer at Apple, is credited with the industrial design. Its unique shape and colour options helped it ingrain itself into late 1990s pop culture.
The iMac was the first computer to exclusively offer USB ports as standard, including as the connector for its new keyboard and mouse, thus abandoning previous Macintosh peripheral connections, such as the ADB, SCSI and GeoPort serial ports. The keyboard and mouse were redesigned for the iMac with translucent plastics and a Bondi Blue trim. The Apple USB Keyboard was smaller than Apple's previous keyboards.
Apple I-Pod 2001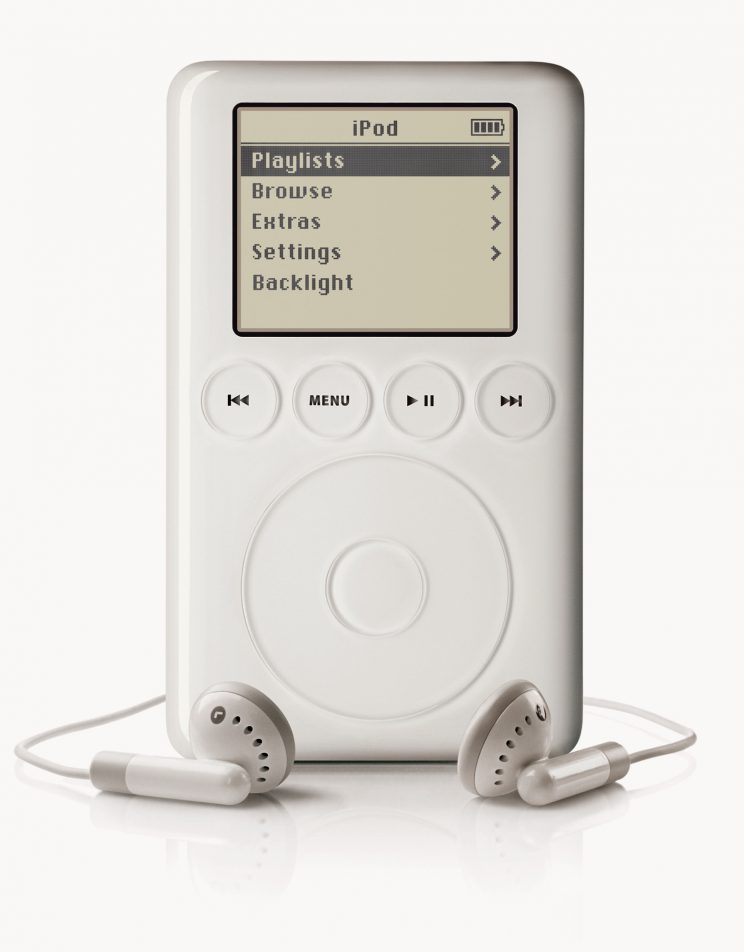 Before this was the days of Sony Walkman and cassettes. Things that are alien, to the current generation. No such product had ever been out in the market. iPods have won several awards ranging from engineering excellence to the most innovative audio product, to fourth best computer product of 2006. iPods often receive favourable reviews; scoring on looks, clean design, and ease of use. PC World says that iPod line has "altered the landscape for portable audio players". As of September 2012, Apple reported that the total number of iPods sold worldwide was 350 million. The idea of a sleek and easy to operate music device made everyone jump on their feet. Still, this was not a new idea. This was just apple making it better and they did it the best.
iTunes 2001
The first version of iTunes, promotionally dubbed "World's Best and Easiest To Use Jukebox Software", was announced on January 9, 2001. Subsequent releases of iTunes often coincided with new hardware devices, and gradually included support for new features, including "smart playlists," the iTunes Store, and new audio formats.
The release of iTunes also played a major role in curbing music piracy. "No one believed people would pay for music. On April 28,  the lives and opinions changed for a lot of people," Ted Cohen, EMI. April 28″ is the release date of the first iTunes software. As of January 2017 iTunes has offered more than 35-40 million songs on its platform.
Innovation in Apple.
Innovation can be defined in many ways. It's evident that the technologies Apple has brought to the public were, ,not invented by them, most of the times. But they were surely mastered by Apple. Steve Job was a hard person to work with, say some of his employees. But he was dedicated to maintain quality and push forward the innovation with his products and that he did well. In most instances, he was not the CEO. He was the fricking Quality Control.
Apple deserves to be on this stature because it is a risk-taking company. It took huge risks with its products and now has earned the rewards. Apple is  'product oriented' first and 'customer oriented' second. Apple believes in order to sell its products it has to tell people what they need. Not the other way round.
Wait till next week when we study the marketing strategy of Apple Inc.