Where would Kindness find its meaning, if there was no injustice. How would Love be understood, if there was no Resentment. Where would Hope live, if there was no Adversity and where would Humanity thrive, if there was no Suffering.
For years Syria has been a symbol of overwhelming hardship and agony in the eyes of the world. The walls of its cities bear punctured wounds telling an endless tale of destruction and strife. But where violence prevails, can kindness and love be left behind?
According to UN reports 13.5 million Syrians are in need of humanitarian assistance, out of which 6 million are internally displaced i.e , they have been forced to leave their homes. Some remain trapped in government or rebel held areas.
A present day in Syria would look a lot different than a present day elsewhere. For example for some of us, availing what we need is as easy as heading over to a target store. For Syrians, its not that simple. Target stores and supply chains are hard to find and to run in Syria. Everyday supplies necessary for life need to be delivered to them. Billions have been poured out by many nations towards aiding Syrian civilians but months or year long sieges by the government forces or rebel armies prevent aid convoys to reach the civilians. Not to forget that this aid includes medical supplies which can be crucial in a extensive war zone. Nevertheless, the aid does reach people but many are still in need.
Sending aid through convoys and humanitarian agencies is one thing, but stepping into a war inflicted region is another. Doctors, volunteers and humanitarian workers have taken up the gauntlet of caring, providing and preserving the people of Syria. They are well aware of the dangers that ensnare them, but the calling to serve soars higher. Talk about stepping out of your comfort zone, this is way beyond just stepping out. It is rather, stepping into a situation that can lead to gravely fatally consequences.
Not many must have heard of Kayla Mueller, a 26 years old who worked in countries across the globe as a humanitarian. Her calling of serving people who are desperate drove her across the globe to live and work with several refugee groups. She had worked among Tibetan refugees in India, African refugees in Israel and refugees in Palestine before travelling to Syria.The organisation she worked with is called "Doctors without borders". She came to Syria with her friend who was a Syrian himself.
It was August 2013, when the first news of their daughter being kidnapped came to her parents through a nasty email from ISIS. Few days later after Kayla crossed into Syria, she was abducted on her way back from the hospital.  While in Syria, she was held hostage by one of the most brutal terror groups.
We all can catch a glimpse of what she would have dealt with in the days that followed. Held captive in her 12/12 Feet room with no light, not enough layers to cover herself and facing horrendous atrocities at the hand of ISIS, she endured 18 months. Meanwhile, the family toiled tirelessly to bring her home. But the in-cooperation of the American government left them helpless. Bound by their policies, the government denied the payment of a ransom of $5 million to ensure Kayla's release.Watch Kayla's parents plea to the ISIS
The ISIS gave her family a 30 days window wherein the ransom needed to be paid. Failure to meet the deadline would have called for her execution on her birthday that year. But the video plea seemed to have worked and the execution did not take place after 30 days. She remained an agonized hostage until February 2015, when the ISIS claimed that she was killed in Jordanian airstrike. Experts however believe the opposite.Watch Kayla's story here.
Her commitment to serve the people is exemplary. She probably did more that people could do in a lifetime.
Inspite of global awareness of the scale of danger in this country, Syria still sees a wave of volunteers each year outpouring resources , time and their lives itself to help and aid the wounded. A Japanese volunteer in an interview with the BBC said that the workers know that they are risking their lives, its hard enough not to think about it while we do this work, but the people here really need our help.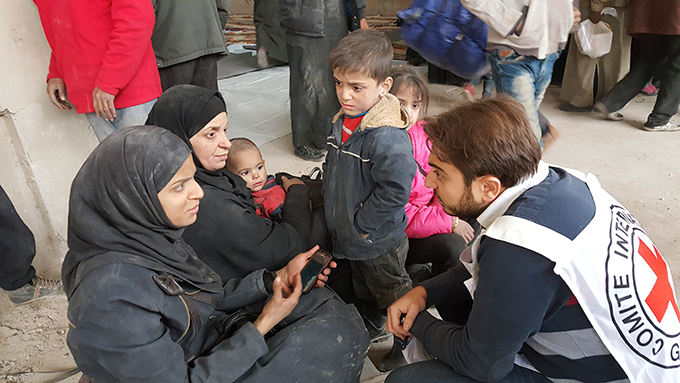 As war brings out the worst of human character, its in the heart of war that courageous lives find their profound meaning and purpose. Syrians sure have seen how death can seem better than life in their country, they have also seen  probably the warmest, kindest  and bravest of human hearts that ever lived.